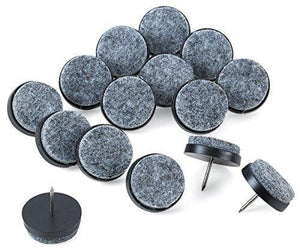 Felt Furniture Floor Pads - 16 Piece HookIn Floor Protectors For Furniture, Tile, Hardwood, Laminate Flooring, Patio, Office, Work, Bedroom, Surfaces, Restaurants, Dining, Home And Kitchen - Katzco
Are you constantly having a problem with moving your furniture?
Moving around heavy furniture requires a lot of work and then after all that hard work you find out your floors are scratched to bits.
Why go through the hassle when your problems can be solved with these floor protecting furniture pads!
These Felt Floor protectors are incredibly easy to use and apply!
All you need to do is, bang in its nail into any wooden leg posts you require.
These floor protecting pads are made with a heavy duty felt material.
The strong nails makes a good grip pads shouldn't slip when dragged and provide a long life of use.
They prevent any scuffing or scratching to your floors and surfaces when moving furniture.
Use on:
Wooden:
Tables
Chests
Desks
Curio cabinets
Nightstands
Dressers
Any other furniture piece you own.
With Katzcos Felt furniture floor protecting pads you can move around your furniture with relative ease.
They allow any furniture to glide and slide around easily without ruining any of your floor surfaces for stress free moving.
Furniture Floor protecting pads come in a pack of 16 felt pads that way you have enough to put on any desired furniture.
So what are you waiting for? Get the best deal possible with Katzco!