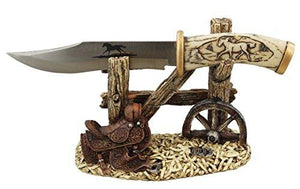 10.5 in. Long, 5 in. High, 3.25 in. Wide In Holder/ Knife: 10.5 in. Long, 1.75 in. Wide

Holder and Faux Antler Handle are Creatively Cast in Resin and Includes a Fixed Steel Knife

Hand Painted Intricately Detailed Finish For a Lifelike Appearance with a Printed Unsharpened Blade

A Highly Decorative Piece You'll Love to Showcase On Your Side Table, Nightstand, Desk or In a Lighted Curio

The Perfect Complement to Your Rustic Cabin, Lodge or Country Western Inspired Decor

Color : Brown

Size : One Size
Discover your inner cowboy with this Western decorative knife. Made from realistic faux carved antler, its handle features a gorgeous carving of a wild stallion galloping across the open plains. The beautifully shaped steel blade features another image of the majestic animal and is unsharpened for safety. Rustic details adorn the knife's ornate stand, including an intricate leather saddle and a wagon wheel leaning against a pair of rough hewn fence posts. Set this dagger on a side table, bookshelf, display case, or mantelpiece to add a touch of the Wild West to your office, living room, or country lodge. Alternatively, give it as a present to anyone with a rustic sense of style.