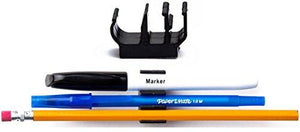 HANDY - Keeps pencils, pens, markers, highlighters, etc. handy and in a convenient and accessible location.

INNOVATIVE - Super innovative, patent-pending utility allows this clip to hold over 100 common writing instruments. WHAT THEY HOLD: No.2 pencil, ballpoint pen, stick pen, permanent marker colored pencil, marker, mechanical pencil, medium point pen, art pencil, golf pencil, checking pencil, fashion pencils, lumograph pencil, drawing pencil, felt tip pen, fine tip pen, extra bold pen, lumber crayon, carpenter pencil, grease pencil, etc. - and dozens and dozens more!!

VERSATILE - Advanced Self Adhesive technology holds extremely well to most surfaces including cubicles, vehicles, cabinets, phone and electronics, furniture, shelving, etc. Designed to be friendly to the surfaces it is stuck on.

CHOOSE TYPE - 2 DIFFERENT VERSIONS - Magnetic OR Self Adhesive - Something for every application. Made with highly-advanced Self Adhesive bottom, or instead opt for a rare earth magnet for extremely strong magnetic grip to metal surfaces. IMPORTANT NOTE: Magnetic and Self-Adhesive are in two separate listings. Be sure to find the type that you would prefer!

VALUE - These are the most cost-efficient clips/holders on the market. Personalized logo service available for larger orders, contact us directly through Amazon for this service.

Color : Black

Size : 10 Pack
Highly innovative and extremely versatile pencil/pen/marker clip. Takes up less than one square inch of space, yet holds over 100 different types of common writing utensils. Advanced Self Adhesive technology allows these clips to grip tight to many different surface types: plastic, metal, glass, veneer, laminate, etc. Thanks to their versatility, these clips have a wide variety of applications -- school, office, kitchen, craft room, vehicles, etc. Will not ruin surfaces, the tape comes off cleanly when wanted. Highly affordable, these clips are some of the cheapest you'll find on the market -- but by far the most advanced and versatile. Give them a try today! You'll love them.