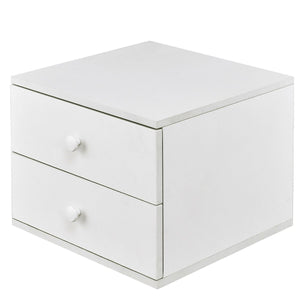 This bedside cabinet with high quality is white and in modern style. One of the biggest advantages of this nightstand table is that it has two storage drawers, in which lots of things can be stored.
You can put your accessories, ornaments, and other things in it. It¡¯s really convenient for you to do so. And you can also put your table lamps, photo frame, and other things on its table top. You have enough space to put your things. This bedside cabinet is very practical and useful.
With this bedside cabinet at hand, your daily life will be more convenient. This nightstand table can be a wonderful decoration of your bedroom. Don¡¯t hesitate! Come and buy one!
High quality and brand new
Compact modern style
Two useful storage drawers to store things
Convenient table top to put things
Enough storage space
Helpful placing rack and accent piece
Durable and sturdy
Wonderful display of home
Assembly required


Color: White
Material: MFC
Overall dimension: 16" x 16" x 13" (L x W x H)
Drawer dimension: 14.5" x 13.5" x 3.5" (W x D x H)
Product weight: 27 lbs
Package includes:
1 x nightstand table