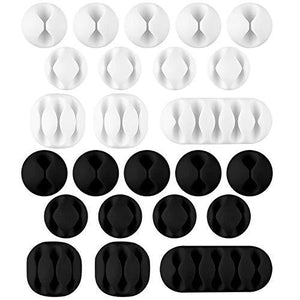 Five Size And Two ColorsIncluding single-line clips, two-wire clips, three-wire clips and four-wire clip, black and white are available.

Keep Tidy And NeatManage various of cables, wires and cords, like headphones, phone and chargers, USB cables, power cords, computer, laptop and audio wires, gaming console cords, ethernet, HDMI, TV, musical instruments wires or other accessory items you need by hand. Keep your desk clean and tidy.

Quick Peel And StickSelf-adhesive, easy to use, creative approach is available as you like to utilize them .The cable easy to remove, and it won't leave any track and mark on your desk after remove.

Eco-friendly and long lastingThese cable organizers will easily make you gain time and money by increasing the life of your cables and freeing you from looking for them.

Warm tipsFor working effectively,Please choose the best holder on smooth and dry surface to stick the cable clips,do not apply it on matte or uneven surface; To avoid any damage or ugly mark on the surface,Please don't move the clips optionally because of strong adhensive.

Color : 24pcs-b&w
DESCRIPTION
Viaky 24 Pack Cable Clips are excellent in abrasion resistance and temperature resistance, elasticity and soft touch.
Including 2 colors, ther are single channel, double channel, triple channel and four channel cable clips, you can choose the right clips to install in different places.
This Cable Clip is not only to fix the cord on the desk at your home or office, but also to store earphones, power cord, charge cable, USB cord, cell phone charger, audio cable, lighting You can use the cord, cord around the PC, cable, etc. It can also be used as a toothbrush or a pen shelf.
Easy To Use
1.Make sure the surface you want to stick on the clips is clean;
2.Peel off the back cover of the base;
3.Stick it on the right position firmly;
4.Start to manage your cords.