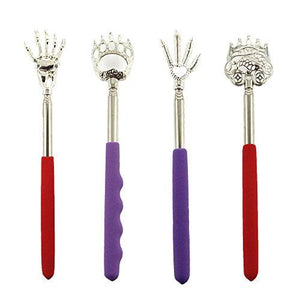 Material:Stainless steel claw,with wave rubber grip.

Extendable design reaches from 6-1/2 to 22 inches in length.

Stainless steel back scratch with telescoping handle. Promotes blood flow.

This one feels like its rubbing more so than scratching because the tips are dull and not sharp at all.

Total 4 Pieces Different shapes: 1 Bear Claw+1 Eagle claw+1 Fish photo Claw+1 skull Palm claw.
Product Description:
This super cool extendable Back scratcher will ensure that even the most annoying itches in hard-to-reach places never go unscratched. Stainless steel extendable back scratcher will provide a lifetime of great use. Extend able design reaches from 6-1/2 to 21. inches in length. Curved design with five fingers effectively tackles itchy spots. Back scratcher allows you to easily reach those pesky itches and tickles in hard-to-reach spots on the body.Collapses down to the size of a pen for simple storage in a vanity or nightstand drawer or to keep in a backpack, purse, briefcase or luggage when you're on the go. A cool and convenient personal care accessory for the elderly, someone laid up with an injury or anyone with dry itchy skin.
Remark:
1.The products is the same as what the picture shows. If you have any quality problems to ask, please feel free to contact us. We believe that the problem will be solved in the first time.
2. Color: Random color
3. Multi use: Can be your scalp massager, head massager, back massager, foot massager and so on.
Package Includes:
Bear claw * 1,Eagle claw*1,Fish photo Claw*1, skull Palm claw*1