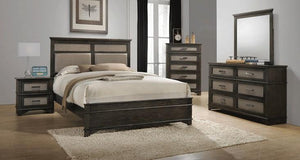 Features:
* Manufactured By : Acme
* Finish: Copper and Dark Walnut
* Material: PU, Tropical Wood, Rubber Wood, LVL, MDF, and Chip article Board
* Box spring required
* Upholstered headboard with wooden trim
* Low profile footboard
* Wooden bracket legs
Discover a modern and chic styling with the Anatole collection, which is sure to stylize your bedroom. The bed is framed selected hard wood in the rich dark walnut finish, while the headboard is accented with panels and upholstery with a shimmery touch. Timeless and chic, Anatole is calming and cool for a wonderful bedroom design option in your home.
Features
Finish: Copper and Dark Walnut
Material: PU, Tropical Wood, Rubber Wood, LVL, MDF, and Chip article Board
Box spring required
Upholstered headboard with wooden trim
Low profile footboard
Wooden bracket legs

Includes
1 Piece Queen Bed
1 Piece Nightstand
1 Piece Dresser
1 Piece Mirror
Chest Not Included (Sold separately)
Mattresses Not Included

Dimensions
Queen Bed : 52" H x 85" W x 65" D
Nightstand : 24" H x 24" W x 17" D
Dresser : 36" H x 58" W x 17" D
Mirror : 36" H x 36" W x 1" D