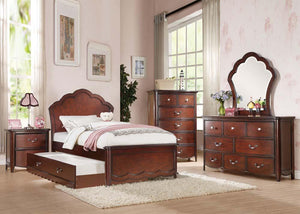 Features:
* Pine Wood
* w/12 Slats
* Box Spring Required
* Cherry Wood Panel
* 2 Drw Nightstand
* 2.5mm Beveled Mirror
* 8 Drw Dresser
The Cecilie Collection is fantastic for every boy's room. The Collection offers both panel and PU headboard choices with adorable cupcake shaped, and it also uses curvy pattern throughout the bed and case pieces to create feminine appeal. The dovetail drawers and felt lined design enhance the durability and functionality. This Collection is available in both white and cherry Finish.
Includes
1 Twin Bed, 1 Trundle, 1 Nightstand, 1 Mirror and 1 Dresser

Matching Chest(30286) Sold Separately

Mattresses Not Included
Dimensions
Twin Bed(30270T), 80.6" x 45" x 52"H
Trundle(30278),76" x 40" x 12"H
Nightstand(30283), 26" x 17" x 26"H
Mirror(30284), 34" x 38"H
Dresser(30285), 56" x 18" x 34"H