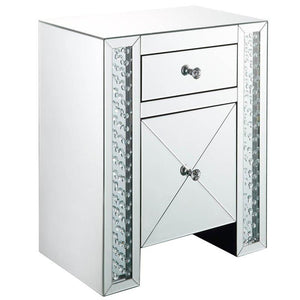 Features:
* Manufactured By : Acme
* Finish: Mirrored
* Material: Mirror, Glass, MDF, Acrylic
* Beveled Mirror Case Frame
* Storage: 1 Drawer and 1 Door
* Drawers with French Dovetail and Side Metal Glide
* Sled Base with Clear Glass and Faux Crystal Inlay
The contemporary Maisha nightstand is a dazzling statement piece for you to display anywhere in your home. The modern nightstand is fully mirrored and features a mirrored front and mirrored sled base with round crystal inserts. With two storage drawers and beveled trim finish, this unique piece is a welcome addition to any foyer, bedroom or sitting area.
Features
Finish: Mirrored
Material: Mirror, Glass, MDF, Acrylic
Beveled Mirror Case Frame
Storage: 1 Drawer and 1 Door
Drawers with French Dovetail and Side Metal Glide
Sled Base with Clear Glass and Faux Crystal Inlay

Includes
1 Piece Nightstand
Dimensions
26" H x 22" W x 14" D