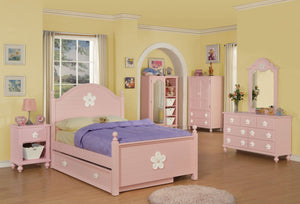 Features:
* Floresville Collection
* Pink Finish
* Not Beveled
* Rbw, MDF & Lvl
* 1 Drw & 1 Basket
* Nightstand w/basket
* w/3 Slats - Box Spring Required
The Floresville whimsical girl bedroom reflects everything floral. Starting with estate bed with large white floral motif found on both headboard and footboard. The cases also reflect the floral motifs by using decorative white floral knobs and complemented by the scalloped top found throughout. The finish of course is in a playful pink.
Includes
1 Twin Bed, 1 Trundle, 1 Nightstand, 1 Dresser and 1 Mirror
Mattresses Not Included
Dimensions
Twin Bed(00735T), 81" x 41" x 54"H
Trundle(00738), 75" x 41" x 12"H
Nightstand(00739), 22" x 16" x 29"H
Dresser(00741),54" x 17" x 33"H
Mirror(00740), 30" x 43"H