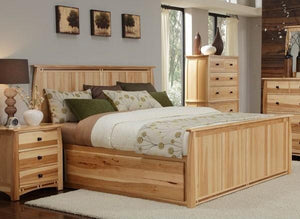 Cedar-Lined
Protect your clothing, fabric or blankets with the cedar-lining inside the storage compartment. Cedar helps removes moisture in the air that may cause mildew and ruin garments. The aroma emitted by cedar lining also helps discourage bugs from crawling into your storage compartments.
Hole(s) for Wiring
Keep wires neat and out of sight! Streamline the wiring process, by passing them through these seamless holes.
Lined Drawer Interior
Ideal for jewelry, scarves and accessories...the material lining on the inside of this drawer will keep your valuables from scratching.
English Dovetail
A type of construction that provides great stability and maximizes storage without extra pieces of wood sticking out. The locking joints are tapered in shape to keep the drawer pieces from sliding apart.
Full Extension Drawer
No need to reach in and grab things. Just pull out the full-extension drawer all the way and easily access your storage.
Simple Pulls
Allow other design features on your furniture piece or overall decor to have center stage with the classic clean look of simple pulls.
Wood Base
Supported by a material that is strong, stiff, and resilient.