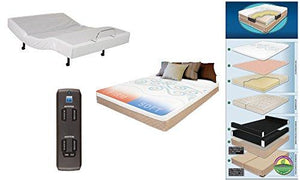 Brand: Brio 60 Noveau Air
Color: Beige
Features:
Adjustable Bed Frame: Wallhugger® engineering is State-of-the-art technology that puts you at the center of the bed's motion. While other adjustable bases lift your upper body away from the wall and away from your nightstand - bases with Wallhugger® engineering lift you up while simultaneously gliding you back. That means the items on your nightstand are within reach whenever you are ready for them.
Adjustability/Features: User friendly wireless remote control. Independent elevation of head & foot. Dual full-body massage. One memory button and a one-touch flat button.
Electric Bed Frame: Weight capacity: 700 lbs. total max weight
Mattress: Edge support offering comfort & support whether sitting on the side or lying on the mattress. The Memory Weave provides our Power Edge with a "no bow" design increasing the durability & longevity by not allowing oxidation of the foam.
Infinitely adjustable: With a touch of a button, you can find that perfect level of Air Support, so you can enjoy a great night's sleep.
Publisher: Innomax
Details: The Adjustable bed frame Brio 60 gives you all the comfort and reliability you desire from adjustable electric bed risers with a full range of relaxing positions!
Wireless remote features a memory button & one-touch flat button and Dual, full-body massage available!
Its free fall design is one of its key safety feature - head and foot sections lower by gravity only.
This Adjustable Base features premium performance & ultimate sleeping comfort. Its Full box spring profile appearance will make your room look stylish.
CSA-certified to both UL-and CSA-applicable electric motor standards.
Sizes:

Twin XL
Queen
Split E/King
Warranty: 1-3-25 Warranty (25 year limited warranty)
.
The InnoMax Nouveau Mattress has beautifully designed the ultra-stretch cover that assists in moisture evaporation and management - eliminating bacterial growth for a healthier sleeping environment. Three Compression Flex Zones: Provide high-performance body fit and support alignment for maximum pressure relief and comfort. Multi-Zoned Balance & Posturized Mid-Body Support: Optimizes support physics and provides separately designed zones for head-to-toe comfort, stand tall - sleep tall posture alignment. Wool Moisture Barrier: Assists in moisture management and temperature control. Wicks away moisture in either a warming or cooling manner - allowing it to maintain warmth in the winter and coolness in the summer. Fully Assembled Foundation: Both K & Q are split for additional strength, stability, and convenience when moving. Available In: W/King, E/King, Queen, Full, Twin & Twin-XL.

UPC: 783024296238

EAN: 0783024296238