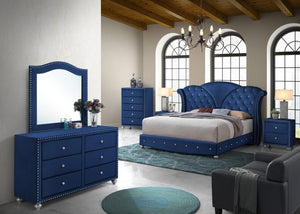 Fabric Upholstery
Soft and cozy! Fabric upholstery is an economical, environmentally friendly way to show off your eye for style and color. It allows for a multitude of patterns or color options.
Decorative Hardware
Make every pull a classic with the stylish, ornamental hardware on this furniture piece.
Button Tufting
Get optimal uniform comfort with the peaks and valleys support of that comes with any button tufted furniture piece. The notable design aesthetics are sure to be a topic of conversation.
Nail Head Accents
This piece of furniture has all the design pizzazz you need with the metallic style of nail head accents.
Bun Feet
A slightly flatter version of the ball foot. This bun foot design endows your home with a new level of elegance.