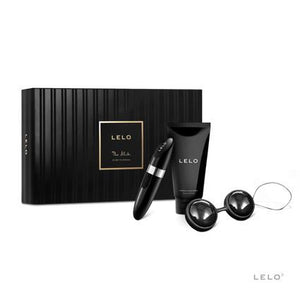 Can you keep a secret? A covert collection, comprising a discreet and indulgent set of pleasure objects in a beautiful gift box. The Alibi is all about secrecy. Inside is the lipstick style, USB rechargeable and waterproof Mia massager, which quietly offers pinpoint pleasure on the down low. It is paired with the Luna Beads Noir, a set of duo balls that enhance stimulation and arousal. Also, 2.5 fluid ounces of Lelo's personal moisturizer. Vital statistics: a treat for anniversaries and events.
A luxuriously sexy choice of options, perfect for any special occasion. A generous offer just for you. Comprising a powerfully indulgent set of pleasure objects in a beautiful gift box. Seriously quiet and completely discreet. Mia 2, Luna Beads Noir and moisturizer make this the perfect secret to keep.
Contents:
Your secret is safe with us. This discreet three piece set lets you be naughty while everyone thinks you are playing nice.
Both the unassuming lipstick like Mia 2 massager and the ultra chic Personal Moisturizer look at home inside or even atop your nightstand.
Plus, the Luna Beads Noir, a seductive take on the world's best selling Ben Wa balls, can be inconspicuously worn in the bedroom and beyond.
Mia 2 vibrator is waterproof, USB rechargeable, personal massager with 6 vibration modes. Luna Beads Noir 2 premium 37g Ben Wa balls with silicone harness.
Personal Moisturizer premium water based lubrication. Lubricant ingredients: Ingredients: Water, Propylene Glycol, Hydroxyethylcellulose, Aloe Barbadenis Leaf Juice, Sodium Benzoate, Potassium Sorbate, Tetrasodium EDTA, Gurana Extract, Ginseng Extract, Avena Sativa Extract, Polysorbate-20, Aspartame, Polyquaternium-5, PEG-45M, Citric Acid.
Satin storage pouch.
1 year warranty.