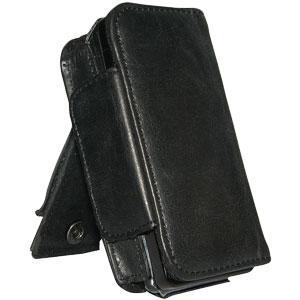 Designed to offer greater versatility than the conventional cell phone case, the DeskMate features a kickstand, ideal for placing on your desk or nightstand. This leather kickstand also doubles as a belt loop, providing that little extra safeguard you were searching for. Soft padded interior prevents scratching and helps to keep your screen clean. Openings for charging port, audio jack, side controls and camera lens make it unnecessary to remove the case to use the phone. Fixed swiveling belt clip allows you to securely place the case on your belt or bag. The distressed leather makes it a great accessory for day or night. The DeskMate really is the perfect companion for your Device!
MORE INFORMATION
Fommy Product Review:
Overview: The AMZER Envoy DeskMate case provides an excellent, good looking case experience that doubles as a stand for media viewing either at home or on the go.
Durability: The case is extremely well designed, right down to the belt clip. The case is made out of touch, thick leather that makes for a great shock absorber and will be unphased by minor dents and scratches. Like a lot of leather cases, the top layer is a bit soft, so keep it away from sharp objects. Even if it does get cut, it would take quite a huge gouge to even actually damage your phone by going through the case, but it will damage the aesthetics of the case a bit a bit. As far as the belt clip goes, its just a single piece of tensioned metal wrapped in a leather exterior; widely avoiding the typical plastic snapping problems associated with belt clips.
Design/Functionality: Here is where this case really shines, it packs all the standard case functionality in along with a great new feature: the kickstand. To use the kickstand, you simply unbutton in from the back of the device, which keeps it firmly in place when not in use and then you simply move it back and balance your device at a good angle for you. As an added bonus, when not in use, you can also feed your belt through the slot, although the regular belt clip would probably be more comfortable. The only downside is that the kickstand is mostly just a reinforced piece of leather and there really is nothing to hold it in place, so it does take a little bit of a balancing act to get it to stand up.
The belt clip ratchets infinitely in either direction, making it very easy to use; while the screen cover is held in place by a very sturdy magnet that is easy to use but still very secure. The case is very well designed, providing you easy access to all the ports and buttons of your device without a lot of extra hassle.
Conclusion: This is a great, good looking case that doubles as a portable stand for your device.

SKU:
83172
PARTNO:
AMZ83172
COMPATIBLE MODELS:
HTC Touch Pro
HTC Fuze