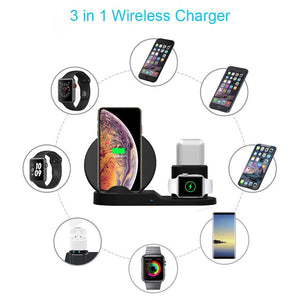 A Must-Buy Item for Apple Fans!
Pack 1 plug and 1 wire only for travelling! Apple 3-in-1 Wireless Charging Dock allows you to charge your iPhone, Apple Watch and AirPods at the same time with only 1 wire.
The charging dock can charge your devices up to 2 times faster than a normal wireless charger safely. It is definitely the perfect accessory to have on your bedside nightstand or on a work desk!
Highlights:
3-in-1

: charge 

all series of Apple Watch, Apple AirPods, iPhone or other Qi-enabled devices simultaneously

Fast charging

: charge 2 times faster than a normal wireless charger

Guaranteed safety

: maintain ideal

temperature, input voltage, input current and more

Tidy & neat

: keep your night stand tidy with only 1 wire needed for charging
Able to stand your iPhone in portrait or landscape viewing mode
Surface made of premium material to keep your devices away from scratching
Add style to your home
Specifications:
Weight: 240g
Transmission Power: 10W
Input Voltage and Current: 9V/2A, 5V/2A
Output Power: 5W/ 7.5W/ 10W
Operating Frequency: 110 – 205 kHz
Device Supported: iPhone and other Qi-enabled devices, AirPods, and iWatch
Size: 3.5in (H) x 8in (W) x 3.1in (T)
Package Includes:
1pc 3-in-1 Wireless Charging Dock with or without plug (EU/US)
1pc Type-C cable