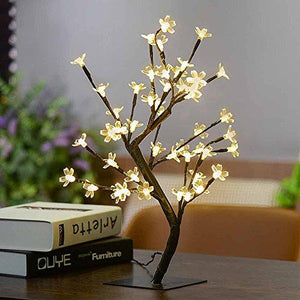 Brand: AUA
Color: Black
Features:
Miniature Cherry Blossom Tree: Elegant appearance, bonsai style design, mini decorative tree is constructed of metal material and bendable branches. 45cm/17.72inch height cherry tree light embellished by 48 warm white LED lights. Clear color flowers, black stem and branches, more attractive than the real plant bonsai.
Adjustable Branches: Branches are flexible and easy to bend, easy installation and movement, which adds romantic atmosphere to whatever occasions you want.
Battery Powered: No cord wires or electrical outlet needed, just powered by battery with ON/OFF button in the bottom, it is portable and self-standing on a table top, nightstand or office desk.
Safe to Use: Stable base of square iron stand, super long 300cm/118inch lead wire, which is very convenient for you to use. Equipped with a 31V safety voltage adapter with UL certification, the safety is guaranteed.
Application: Perfect for home, bedroom, living room, balcony, balcony window, office room, children's room, restaurant, porch, pavilion, shelf, for parties, birthday parties, wedding ceremony, dinner party decoration.
Details: AUA Battery Powered Cherry Blossom Tree Light, perfect for Garden, Home, Wedding, Party Decoration

Color: Warm White

Specifications:
1. Tree height: approx 17.72inch(45cm)
2. Number of LEDs: 48pcs, each cherry blossom flower is equipped with 1 led.
3. Light color: warm white
4. Waterproof class: IP20
5. Square bottom iron frame: 12cm(4.75inch)* 12cm(4.75inch)
6. Plug standard: USA plug
7. Lead wire length: approx 118inch(300cm)
8. Power: 3.6W
9. Input voltage: 120V
10. Output voltage: 31V
11. Certificate: CE, ROHS, UL Listed

Package included:
·Warm White Battery Powered Cherry Blossom Tree Light (Battery not included)
·English Manual
UPC: 754047477201
EAN: 0754047477201