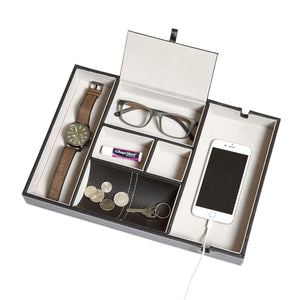 Brand: TutisD
Color: Black
Features:
✔️ PROFESSIONAL LOOK TO KEEP YOUR BEDSIDE TABLE ORGANIZED! We understand that men who are good organizers are hard to come by, so we want to fix that solution! Instead of throwing your keys, wallet, phone, electronics, glasses, books, remote, key, or any of these items around the house. Have one centralized location in your bedroom, office, kitchen, or even on the dresser, desk, or any nightstand! Our organizer tray is made to look professional with the leather stitching!
✔️ U.S.A. Design and Testing: While our products are manufactured overseas (let's be honest, what isn't these days..) ALL of our DESIGN AND TESTING was done right here in the United States. Our USA customer service team stands by to provide you with exceptional, lightning quick responses to your every concern. Your satisfaction is our #1 priority.
✔️ WE WANT YOUR TO HAVE A FREE E-BOOK! Since you are going to be all organized and know where all of your items are on your bedside organizer tray, we want to provide you with an ebook to help you with this time! When you get home from a long day at work, and need to put your phone, wallet, keys, glasses, and phone down to relax for a minute. Get our ebook going to let time pass and relax! Our storage table tops organizers are meant to go anywhere around the house, not just on a nightstand!
✔️ THE STYLE OF OUR BEDSIDE CADDY ORGANIZER IS PERFECT! Our PU leather with Faux suede inside makes this nightstand tray super nice looking! This can be used in a valet as well and make it look very professional! You can store all of your customers wallet, keys, glasses, books, or anything like that! Take control of your messiness with our beside organizers. It has charging cable spots to slide in, as well as a protective lid for sensitive items! Keep your phone charged and in one place.
✔️ ONE OF THE MOST VERSATILE TRAY ORGANIZER ON THE MARKET! We want our product to be used any and everywhere around the house or office! Our bedside caddy can go in the kitchen on a counter or table top, in the bedroom on top of a dresser or nightstand. We want your electronics to have storage space anywhere around you. Men out there that lose stuff all the time, this is for you! It even has a "catch all tray" for coins and keys to grab them easily! Have fun with our product and enjoy the ebook!
Publisher: TutisD
Details:
Do you want the best bedside table organizer out there? ? Look no further than our table top, dresser, or nightstand tray!
Our tray comes with a phone compartment, one with a lid for sensitive items, a catch all tray, charging ports, as well as a FREE EBOOK!
Our bedside caddy is made with quality products that blow all our competitors out of the water. We promise you will receive high quality organizing tools for your phone, wallet, keys, coins, or glasses!!
✓ Trendy Look! Our tray is trendy and will be a great addition to your kitchen, bedroom, or office.
✓ No Assembly Required! Simply open our product and begin organizing!
✓ Trust us to help you become more organized than ever!! Our members want to have the best organization for men or women. Our product will be the best you've ever seen! It's trendy, easy to use, and high quality.
We are a U.S.A. based company run by Americans. We stand by our products 100%. If you are unsatisfied for any reason we will send you a replacement.
No. Questions. Asked.
UPC: 721093979430
EAN: 721093979430
Package Dimensions: 14.7 x 10.4 x 2.1 inches