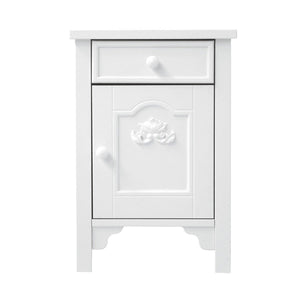 This bedside table is part of series Romantic in white. It has a serene Romantic look and is super convenient to store accessories like the alarm or your favourite book. This night table has 1 drawer and 1 door, with rounded knobs. The doorpanel has a decorative ornament and mouldings.
The Romantic nightstand looks great when matched with the bed from the 'Romantic' range, but can also be used in combination with other furniture you might already have. 
Dimensions: 62 (H) x 42 (W) x 40 (D) cm.

The bedside table is Dutch design by 'Bopita'. 

All dimensions are approximate.