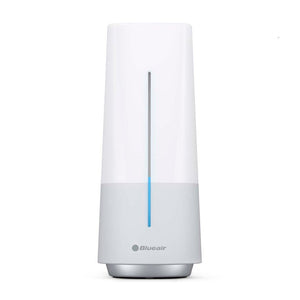 Info: Blueair Aware; Limited Quantity Remaining
S&H included in Canada. The Blueair Aware is a small electronic device to measure and monitor the air quality in the room it's placed in. It can be used to help automate the function of certain Blueair air purifiers (details below), or as a stand-alone device. Aware can provide timely alerts specific to your home's needs, and help keep you informed by recognizing patterns of indoor air pollution or excessive CO2 or humidity levels. The room's overall air quality is indicated right on the LED strip on the front of the unit, while the more detailed information being collected can be monitored by the free Blueair App for mobile phones (Android or iOS), which translates that data into precise readings of your indoor air quality. Clean air intelligence.
Product Notes:
Air. Today, the air indoors can be just as impure as the air outdoors, due to invisible contaminants in our every day environment. What if the solution to dirty air was as simple as waving your hand? Introducing our new range of innovations from Blueair.
The Blueair Aware senses when there's a drop in air quality, sending the data wirelessly to the cloud. This information can then be monitored via the Blueair app, which translates the data into precise indications of your indoor air quality. The app allows you to instantly adjust the fan speed of the Blueair Sense+, purifying the air with its state-of-the-art technology complemented by award-winning design, giving you the power to remove over 99% of harmful pollutants from the air you breathe. All this, right from the palm of your hand.
Simplicity that's as efficient as it is attractive. Blueair. Clean air intelligence.
---
The Blueair Aware can either be used as stand-alone device if you're using another means of purifying the air (or are just considering getting one), or in conjunction with certain Blueair air purifer models. With that data, you can use the Blueair App to set the new WiFi-enabled Classic units (whose Model numbers end in -05) to Auto mode, which will change fan speed to the most appropriate level for the current air quality conditions (reducing energy consumption).
Aware can control all these features of the model from anywhere with your phone: turn the purifying unit on/off; change its fan speed; activate Child lock; and control the Filter change indicator or the Recovery state after restart features.
The App also allows you to adjust the intensity of the LED display strip on the front of the Aware unit or switch it to Night mode.
Technical Specifications:

- Air Quality Factors -- Blueair AWARE™ is capable of sensing:
• Particulate Matter (Fine particles PM2.5, ranging from 1 ug/m3 to 500 ug/m3);
• Total VOCs (Volatile Organic Compounds, ranging from 125 to 1000 ppb);
• Carbon Dioxide (CO2 equivalent based on VOC readings, 450 to 5000 ppb Range);
• Temperature (from 0°C to 50°C (32°F to 122°F) accurate to ±1°C),
• Humidity (Measurement range of 25% to 75%; accuracy RH ±5.5%)
- Size (H x W x D): 7.6 x 3 x 3 inches (185 x 80 x 80 mm)
- Weight: 410 g (1.1 lbs)
- Power: Non-detachable USB cable, 1.7 m; AC-DC 5V 0.5A USB Adapter
- Connectivity: Wi-Fi: 802.11 B/G/N; Wi-Fi GHz: 2.4; for iPhones with iOS 8 and upwards, or Android 4.1 and upwards
- Security: Open/WEP/WPA/WPA 2 Personal
- Sends and stores data to the cloud every 5 minutes.
- Operating Temperature: 0° to 50°C (32° to 122°F)
---
How to get the most from your Blueair Aware air quality monitor.
Video Transcription from Above
The Blueair Aware monitors airborne particles, VOCs, carbon dioxide, temperature, and humidity, while sending real-time updates straight to your smartphone.
To get started, switch on your Blueair Aware by simply plugging it in. The Aware auto-calibrates to your environment and becomes smarter over time. To access all of its functionality, download the Blueair Friend app from the iOS or Android App Store. Once you've registered on the Blueair Friend app, follow the three-step pairing process to connect your device. Make sure that you have a decent WiFi signal. If the signal strength does not allow for an easy pairing experience, switch over to manual setup mode. You are connected.
Name your device and start monitoring your air quality. Connecting your Aware with the Blueair Friend app not only gives you access to your air quality data but also allows you to set the LED intensity and the night mode functionality. You can look to your trusty Blueair Aware device for a quick indication of your air quality. The full-intensity blue light with three lines means you have excellent indoor air quality. Two blue lines indicates good air quality, and one blue line means moderate air quality. One orange line means slightly polluted air quality. Two orange lines indicates polluted air quality. The full-intensity orange with three lines indicates highly polluted indoor air quality. This will be a good time to put your Blueair air purifier to work at full force.
Make the clean air change today. By owning a WiFi-enabled Blueair air purifier you can set your device to automatically clean the air around you. Coupled with the Blueair Aware and the Blueair Friend app, you'll never breathe easier knowing you are keeping yourself and your loved ones safe. Blueair: clean air for everyone.
* Excessive indoor CO2 levels can make people drowsy and impair their cognitive performance and decision-making abilities (see e.g. Joseph G. Allen et al. (2016) "Associations of Cognitive Function Scores with Carbon Dioxide, Ventilation, and Volatile Organic Compound Exposures in Office Workers: A Controlled Exposure Study of Green and Conventional Office Environments" Environ Health Perspect 124(6):8-5-12; DOI: 10.1289/ehp.1510037) while excess humidity levels can foster allergy triggers such as dust mites.
Suggested Usage:
Place it on a flat, stable surface in the room you want monitored where there is open air around it, preferably at the height you would be breathing there (such as a bookshelf or side table in the living room, or a bedroom nightstand). Clean the casing only with an anti-static cloth.