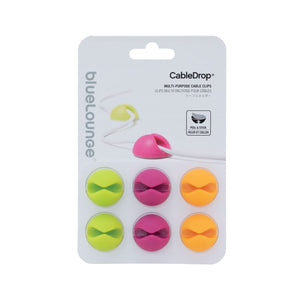 CableDrops are little drops that grasp peripheral cables to keep them in place, routed and within reach wherever you may need them.
CableDrops affix to desks, walls and nightstands to keep your cables in place so they're there when you need them.
They will self-adhere to any smooth flat surface - over time they will become permanent.
CableDrops put an end to the insanity of chasing that cable that seems to slip and disappear behind every flat surface, day after day.Simply peel and stick CableDrops anywhere you need them.

COMPATIBILITY
CableDrop: medium to large cables with large connectors.
CableDrop Mini: medium to small cables with small connectors.

COLORS
Black, White, Bright, Muted

MATERIALS
Plastic with TPU Adhesive: Permanent (can be repositioned when first applied but becomes permanent over time).