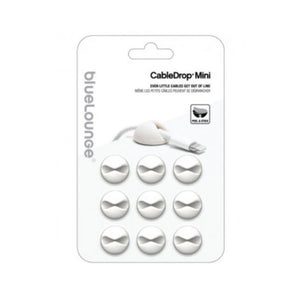 CableDrops are little drops that grasp peripheral cables to keep them in place, routed and within reach wherever you may need them.
CableDrops affix to desks, walls and nightstands to keep your cables in place so they're there when you need them.
They will self-adhere to any smooth flat surface - over time they will become permanent.
As devices shrink and their associated cables wither away to become slimmer, lighter and more compact, Bluelounge introduces a tinier version of its ever-popular CableDrop to grasp smaller peripheral cords. The CableDrop Mini, like the original CableDrop, is designed to gently clasp cables and keep connectors within reach when devices are unplugged.

COMPATIBILITY
CableDrop: medium to large cables with large connectors.
CableDrop Mini: medium to small cables with small connectors.

COLORS
Black, White, Bright, Muted

MATERIALS
Plastic with TPU Adhesive: Permanent (can be repositioned when first applied but becomes permanent over time)."