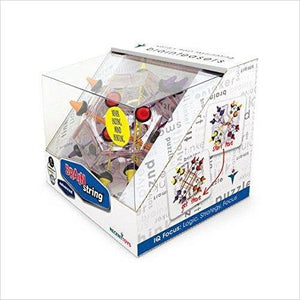 Details:
Brainstring Advanced Brainteaser Puzzle is a best-selling puzzle throughout the world, providing endless ways for you to have fun and stretch your puzzle solving skills. Logic, fine motor skills and spatial reasoning benefit from this game's unique challenges, which are enjoyable for hours on end.
To play, move strings on the puzzle by holding on to their colored tips. Then, glide the strings along tracks and create a knot in the middle to set the puzzle up. Try to solve your challenge by untangling your knot, leaving all strings so they don't touch one another.
Attempt to get solid colors on all sides of the puzzle!
This game stretches your critical reasoning skills to a whole other level. It's a perfect puzzle game to take on the road for short trips and long vacations.
Building on what's already a best-selling puzzle game, the Brainstring Advanced gives you many more ways than the original puzzle to challenge yourself.
Features:
Move colored cones around the puzzle's shell so that each face contains the same color and the center is untangled.
Unique, hands-on puzzles that will give your brain the intellectual stimulation it Craves.
A challenging brain teaser puzzle for adults and children alike!
Display on your nightstand, shelf, or living room as a decorative conversation piece.
The perfect gift for the puzzle enthusiast in your life!
Brand: Recent Toys
Color: Assorted
Genre: Other
Legal Disclaimer: As is!
Publisher: Recent Toys USA
Warranty: 30 Day Warranty Against Manufacturer Defects
UPC: 723905135164
EAN: 0723905135164
Release Date: 2018-06-04
Package Dimensions: 6.7 x 5.2 x 5.1 inches
Languages: English