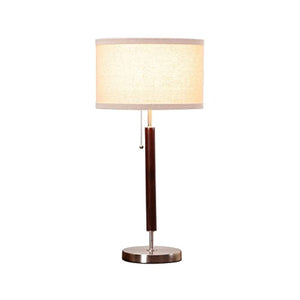 SIMPLE YET ELEGANT MODERN DESIGN: The Carter LED Side Table & Desk Lamp works well with a variety of interior design schemes such as urban, contemporary, mid century modern, minimalist, traditional, and industrial styles. This lamp adds a touch of elegance to your home or office with its neutral linen lamp shade that perfectly complements its Walnut Eucalyptus Wood Finish stem with brass accents. The Carter is one of the most versatile floor lamps that will look great on a side table or desk.

BEAUTIFUL WARM LIGHT FOR HOME OR OFFICE: This table lamp gives off warm, beautiful light that will create a cozy, comfortable, and well-lit space for any room in your home or office. It provides soft yet plentiful lighting for your indoor space. This Lamp is the perfect bedside lamp, side table lamp, or executive office desk lamp that will provide comfortable lighting in any room. For added convenience, this UL Certified lamp is smart outlet compatible with Alexa, Echo, Dot, Google Home, etc.

GORGEOUS CYNLINDRICAL LAMPSHADE: The Carter Lamp's cylindrical lamp shade measures 12.5 inches in diameter and 8 inches in height and sits beautifully atop a Wooden Walnut Finish Stem with a weighted, sturdy base. The lampshade opens at the top and the bottom which diffuses the light and gives any room sufficient lighting with a calm, ambient glow. The neutral tones of this lampshade allow it to easily match and coordinate with any décor in your bedroom, living room, den, or office.

LONG LASTING & ENERGY SAVING INDOOR LAMP: This Lamp includes a 9.5 Watt power saving LED light so that you will never have to replace a bulb. It's advanced 3,000K warm white LED technology with 800 lumens allows this lamp to outshine lamps that depend on short lived, energy consuming standard halogen or incandescent bulbs. This LED lighting will endure for more than 20 years without burning out or overheating. Save money and energy with the Carter LED Table Lamp. Max Wattage 60 W CFL.

SATISFACTION GUARANTEED WARRANTY: Our goal at Brightech is to provide creative, innovative, and beautiful lighting so that everyone can have quality, high end lighting in their home and office. We proudly stand behind all of our products 100%, which is why we offer a full 3 year warranty. If for any reason you are not satisfied with your purchase, please contact us because our number one goal is customer satisfaction and we are committed to making it right for you.
›