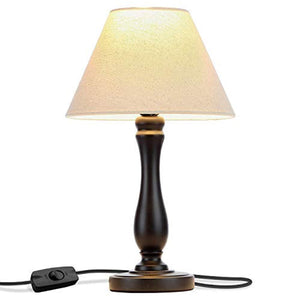 GORGEOUS TRADITIONAL CORDED LAMP THAT WORKS WITH ANY DÉCOR: The Noah LED lamp is the perfect side table lamp for your bedroom or living room. It has a natural wood base that features a sleek, black finish and a neutral cloth lampshade that allows it to sit nicely amid contemporary, mid century modern, or industrial décor. Impress your friends and family with the beauty and style of this gorgeous lamp.

WARM AND BEAUTIFUL LIGHTING FOR YOUR HOME OR OFFICE: The Noah LED Desk and Table Lamp gives off warm, beautiful light that will create a comfortable and warm space for any room in your home or office. It is the perfect lighting for your bedroom, living room, den, nursery, or office side table lamp that will give your room a soft glow. Its neutral shade softens the light which gives your room a warm, ambient glow and comfortable atmosphere.

LONG LASTING & ENERGY SAVING LAMP: The Brightech Noah Desk and Table Lamp includes a 9.5 Watt power saving LED light so that you will never have to replace a bulb. It's advanced 3,000K warm white LED technology with 800 lumens allows this lamp to outshine lamps that depend on short lived, energy consuming standard halogen or incandescent bulbs. This LED lighting will endure for more than 20 years without burning out or overheating. Save money and energy with the Noah LED Desk and Table Lamp.

CONVENIENT SIDE TABLE LAMP: The Noah Desk and Table Lamp has a convenient on and off switch on the electrical cord which makes it easy to turn on and off without having to get up and flip a wall switch. It is also lightweight and sits nicely on side tables to give light without taking up too much space. It also versatile, working well with almost any décor. Height is 14 inches and the widest portion of the lampshade is 8 inches in diameter.

SATISFACTION GUARANTEED WARRANTY: Our goal at Brightech is to provide creative, innovative, and beautiful lighting so that everyone can have quality, high end lighting in their home and office. We proudly stand behind all of our products 100%, which is why we offer a full 3 year warranty. If for any reason you are not satisfied with your purchase, please contact us because our number one goal is customer satisfaction and we are committed to making it right for you.
›