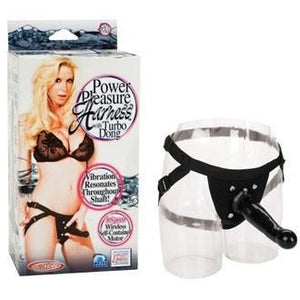 Get ready for a smooth seamless slim vibrating dong with extra reach and a sensually shaped tip patented self-contained motor. Power Pleasure Harness With Turbo Dong proudly brought to you by California Exotic Novelties.

Story
After an intensive session of hot and heavy grinding, I and my partner felt that things could get more intimate and exciting with a little assistance from the Power Pleasure Harness with Turbo Dong, which we recently purchased from U4Ria, that was sitting comfortably on the nightstand by the bed. Being in the mood to be the receiver today, I asked her to put on the harness and provide me with the best pounding she is ever capable of. Enticed by the provocation, she immediately agreed and grabbed the harness and pack of batteries. "Harness me," she commanded breathily. And I obeyed.

Helping her into the harness, I pulled the harness until its tush loops met her shaven crotch and rest comfortably on her firm buttocks before tightening the straps around her slim and sensual waist using the stainless steel snaps. Once the harness is firmly secured to her hips, I deftly inserted the 3 required AAA batteries into the 18 cm (7.09") long, 4cm (1.5") thick, Phthalates-free polyvinyl chloride (PVC) dong which I snapped onto her harness. Following which, I sensibly applied a generous amount of water-based lubricant to the dong. Completing my task, I lay on my back, ready to receive her.

She pressed the button which turns on the 3-speed wireless self-contained motor inside the dong and proceeded to hold them high while simultaneously spreading them wider. Then, came the first thrust! The rounded head of the dong afforded her easy penetration and with its smooth surface make frictionless by the lubrication, she entered deep inside me and I can feel the head brushing and hitting my G-spot, causing me to shudder and moan involuntarily with immense pleasure. The increasing girth of the dong caused my vaginal walls to stretch pleasurably. Yet, at the same time, the vibrations that were resonating throughout the shaft sent waves of delight coursing through my nether regions up my naval down my loins. Thrust and continuously thrusting she did and with each dive, I lost touch with time, my surroundings and myself.
Satisfied that she got me excessively aroused, she turned up the heat by increasing the speed and intensity of the vibrations. This time, as she plunged into me, my world exploded and as she removed herself, my universe imploded. In no time, I was howling and not caring if I am going to wake the entire neighbourhood and have concerned neighbours calling the cops. The sensation was so overwhelming that my groin ruled, my heart thumped hard against my sternum and I was panting so laboriously as though I completed a marathon. I was on a roller coaster of climaxes and riding the turbulent waves of sexual ecstasy. I shamelessly begged for more and she smiled.

Product Features:
3-speed wireless self-contained motor in dong
Near-silent vibrations resonates throughout the shaft
Waterproof
Harness made of smooth nylon
Dong is Phthalates-free
Easy to use
Product Details:
Colour: Black
Weight (Dildo): 228 g (24 oz)
Weight (Include Box): 270 g (26.9 oz)
Total Length (Dildo): 210 mm (8.27")
Insertable Length (Dildo): 180 mm (7.09")
Total Width (Dildo): 33 mm (1.3"); 40 mm (1.57")
Diameter (Straps): 120 cm (40")
Length (Box): 90 mm (3.54")
Width (Box): 127 mm (5")
Height (Box): 230 mm (9.06")
Material: Polyvinyl chloride (Dong); Nylon (Harness); Steel (Snaps)