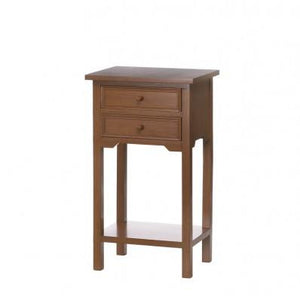 Cape Cod 10015983 Natural Wood Side Table Nightstand Free Shipping
Cozy this stylish side table up to your couch or bed and youll enjoy its classic good looks and useful storage features. Two pullout drawers will keep clutter at bay, while the lower display shelf is the perfect showcase for your magazines or books or even a little potted plant.  
This wood table has a rich brown finish and two drawers that feature stylishly simple pulls.  
Weight 10.4 pounds
15.8" x 11.9" x 27.1"
Color Natural
Shipped to physical location. Some locations and multiple product orders may require shipping surcharge.
 ColoColor