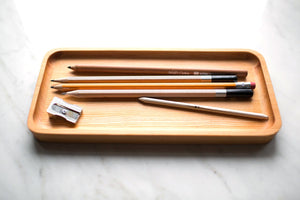 There's a reason reclaimed wood is so popular, it has a story that goes back hundreds of years. Every saw mark, nail hole and notch the wood has makes it more unique than the last.
The Heritage Collection was created to showcase the natural beauty of reclaimed wood. Instead of planing and sanding the entire board smooth removing the beautiful patina, we wanted to leave one side as is. Each board had a purpose and a job before coming to us. Holding up the roof of a barn, perhaps an old railway tie - surviving world wars and outliving generations.
Wood that was milled 100 years ago is from old growth trees. Trees that were densely packed into forests with lack of sunshine and rain, causing them to grow at a very slow rate. The wood in turn becomes more stable and much stronger. That kind of old growth lumber doesn't exist anymore and by us re-using, it's story will continue.
The reclaimed douglas fir valet tray was designed to keep miscellaneous items at bay. Whether its on your desk, your nightstand, or even in the kitchen, keeping things neat and organized has never been easier.
Handcrafted from solid douglas fir. The inside has beautiful rounded corners that are sanded perfectly smooth.
Dimensions
8.5" x 4" x 0.625"
*Please note the grain & colour of the wood will vary slightly. Each tray is made from 100% reclaimed lumber and will have natural imperfections.
**The images used on the listing are a representation of the item and do not feature the exact item that will ship.