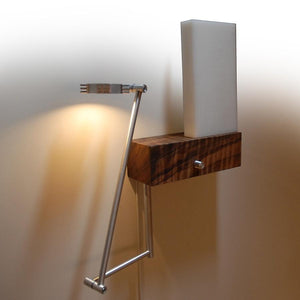 Design by Nick Sheridan
Necessity is the mother of invention, and in this case illuminated activities in bed need highly controlled light – provided here without compromise, while still delivering a simple, clean wall sconce with ambient light. All in one fixture! It leaves your nightstand clutter free – now that is modern.
Cerno LED light fixtures combine the latest in modern fixture design with the highest quality cutting edge LED technology. Cerno products are built and designed in Southern California.
Dimensions - 18.5" H x 9" W x 3" D
Material - Solid walnut body, aluminum arms, polymer shade
Fully dimmable with no flicker
Power usage - 6.3W
Input voltage- 12V DC (adapter included)