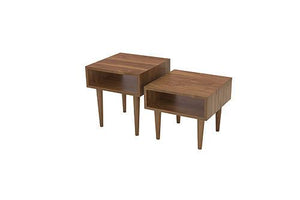 You asked for it. Due to high customer and designer demand, we have added the Classic Side Table to our Classic Series. Following the clean, simple lines of our Classic Coffee Table, the Classic Side Table is extremely functional and versatile. The thoughtful proportions of this honest side table make it perfect for pairing with the Classic Coffee Table in your living room or as a nightstand in your bedroom. In fact, we bet you could find a use for this hard-working little table in just about any room of the house. Reinforced mitered joints allow the wood grain to wrap around the entire piece. The table is finished with a durable clear lacquer, making it worry free and useful for everyday spaces. The Classic Side Table comes in two height options to accommodate various sofas and beds. Solid wood. Made in Minnesota.
-Available in solid Walnut or White Oak
-Dimensions: Box: 17" x 17" x 6" tall Legs: 9" or 12" tall
-Ask about dimension changes (custom fees apply)
-All of our authentic, heirloom quality furniture comes with an exclusive Eastvold Furniture tag, listing your name and the date your piece was finished.