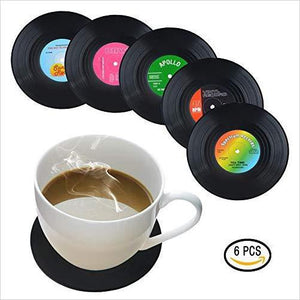 Details:
Give You Nostalgia Life And Protection For Your Furniture! - HIRUN Drink Coasters

Our mini  retro vinyl 45 record coasters are a great addition to any home.
 If you're a lover of classic music - then we've got the perfect set of bar coasters for you. 
One of a kind set of 6 different coloured coasters in a cool retro presentation box, great gift for any music lover. 

Specifications: 
Color: Black
Weight: 150g
Material: ABS + EVA
Quantity: Set of 6 pieces
Size: 4.2 inches (diameter); 0.6 inches (thickness)

Product Feature:
Simple design and light weight solution to protecting table tops from cup rings.
Bar coasters Upgrade your bar to server your guests with these unique coasters. 
Ideal for any home, nightstand, restaurant, bar, car, desk, boat, motor-van travel. 
Completely great for hot and cold drinks, be it tea, coffee, beer, wine, water, juice, milkshake, and more.
Perfect fun gift for your parents, siblings, boy or girlfriend on Christmas, birthday, fathers day etc. 

About HIRUN:
HIRUN will always provide the best product, pre and after service,all our products strict QC and assured quality.
Made your purchase is virtually risk-free! Provide lifetime manufacture warranty and 60 days money back guarantee.
If for any reason you are not satisfied, please contact us,we will try our best to help you. 


Features:
[MUSIC THEME GIFT] - Adorn your coffee table with these stylish retro vinyl record coasters,set of 6 different design on the record label and a retro decorated box,great gift for any music lover.
[NO-SLIP DESIGN] - The backside have rubber non-slip provides a good firm grip,no worry about coasters moving.
[PROTECT YOUR FURNITURE] - Protects surfaces from hot and cold drinks using creative retro vinyl 45 record coasters.
[FITS ANY CUPS] - 4.2 inch (10.6cm) size fits any large & small glassware,your favorite mug, cup or bottle,making them excellent bar tools and accessories
[PERFECT COASTERS] - The coasters made of ABS and environmental non-toxic.Drink your favorite alcohol, liquor or other beverage - beer, wine, whiskey, tropical cocktail, ice water, coke soft drink, coffee, tea or hot chocolate safe every day with these modern soft coasters.
Brand: HIRUN
Color: Black
Publisher: HIRUN
UPC: 732330712871
EAN: 0732330712871
Package Dimensions: 4.4 x 4.3 x 0.6 inches