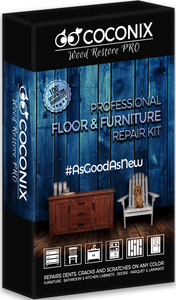 Excellent for Repairing Wooden Tables, Cabinets, Doors, Nightstands and Veneer - Super Easy Instructions to Match any Color and Restore any Material Including Cherry, Walnut, Hardwood
SUPER EASY FILLER for chips, cracks, screw or knot holes, scratches and blemishes.
EXCELLENT FIX for best finish in any color desks, shelves, molding, laminate, edging, baseboards, decks and more.
REPAIR COMPOUND and EPOXY PUTTY STICK included, no glue, pen, markers, wax, paint, crayon set needed.
SUPERIOR RESULTS on any material including painted or natural, dark, light, mahogany, maple, oak, black, white or any color.
100% SATISFACTION AND MANUFACTURER GUARANTEE; 30 day money back and 1 year free replacement warranty.