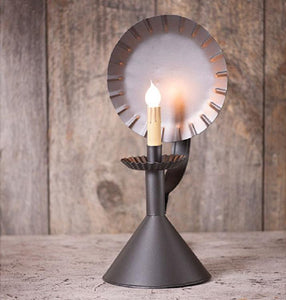 Classic Tin

COLONIAL CONE CABIN LAMP in Smokey Black Finish

A unique accent light is a sweet oval double light is a balanced, well-proportioned design that would be a beautiful welcome in the foyer, office, nightstand or anywhere throughout your home.  Features include a crimped tin candle drip pan and reflector plate.  Makes a wonderful accent light - perfect for small areas where just a touch of light, but a lot of charm is needed.
Smokey black finish. Imported. Wired with one candelabra socket, 60 watts max. Has 7 ft cord with line switch. Metal construction. Requires a decorative candle or battery operated taper, not included.

Extremely versatile, you can bring some rustic country charm to any room.
This piece wonderfully showcases the old world craftsmanship and design.

Measures 17½"h x 8½"w x 7¼"d