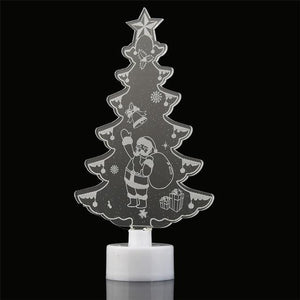 Colorful Christmas Tree LED Decorative Lights
Are you a bed reader? Do you like nightstand lights or 3D lights? This LED night light is for you.
This Colorful Christmas Tree LED Decorative lights is amazing for art lovers, wine lovers, artistic people, and basically anybody who likes dim lights on their nightstand to read a book, feel less scared of the dark, or just for a cozy feel and vibe. This nightstand light is made of ABS material, you can choose the color you like by changing it with a switch button that is included in this package, you can use this LED lamp with AG10 button batteries.
There are 7 colors available in this Colorful Christmas Tree LED Decorative lights: Red, Green, Blue, Yellow, Light Green, Purple, White. You can fix to a certain color or 7 colors gradually change. The design of this LED lamp is a tree, inside in some bells and snowflakes and Santa, this LED lamp is not dimmable, it switches between colors automatically.
This Colorful Christmas Tree LED Decorative lights is so suitable for cozy living rooms, bedrooms, dining area, or at a classic book corner. It gives you coziness, calmness, aesthetically pleasing environment, to read your favorite book under your favorite light color and just be peaceful and calm. The colors that this LED light lamp provides for you are Red, Blue, White, Green, Yellow, Purple, and Light Green.
Get the best amazing LED color changing lamp for Christmas and other parties!
Product details:
Very popular series of Christmas decorations.
Material: High-Quality Optical.
Color: Color changing.
Battery: The Button Battery Included.
Material: Acrylic + electronic components.
Weight: About 50g.
Switch: Bottom switch.
Size: 9 x 15 x 4cm.
Power: Already comes with three AG10 button batteries, can replace the battery ran out.
Package Include:
1 x Colorful Christmas Tree LED Decorative lights