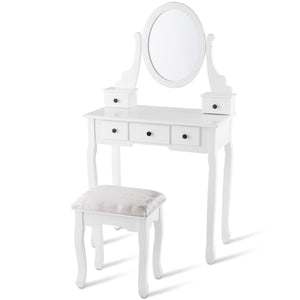 This is the dressing table set with glamorous and elegant style which is the first choice for every girl.
It is made of solid wood plus MDF. This dressing table is sturdy and durable for long time use. This dressing table set includes a mirrored dressing table with five drawers and a stool. The stool has a really comfortable top. When you are sitting on it and dressing yourself, you will feel that it's really an enjoyment. The table with mirror and drawers is of great value. The mirror has a oval shape, in front of which you can well make yourself up. And a lot of things can be stored in the storage drawer.
What a perfect dressing table set! Don't hesitate! Come and buy one!
5 storage drawers, easily organize your jewelry, hair accessories, nail polish, hair care product and cosmetics
Made of solid wood plus MDF, durable and sturdy
Clean big tabletop combined with large oval mirror
Can be used as a makeup table, a study or writing table
When you remove the upper part with mirrors and drawers, even a nightstand to save your bedroom space as well
Padded with soft cushioning, comfortable to sit
Assembly required


Color: White
Material: Wood + MDF
Product size: 31.5'' x 16.0'' x 54'' (L x W x H)
The size of stool: 15'' x 11'' x 18'' (L x W x H)
The size of mirror: 19" x 15'' (L x W)
The size of small drawer: 4.5'' x 3.5'' x 2.5'' (L x W x H)
The size of medium drawer: 4.0'' x 11.0'' x 2.5'' (L x W x H)
The size of large drawer: 7.0'' x 11.0'' x 2.5'' (L x W x H)
Weight: 35 lbs
The weight capacity of stool: 286 lbs
Package includes:
1 x Vanity set