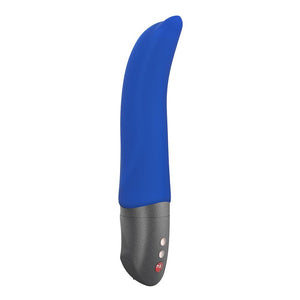 CLASSIC SHAPE, GAME-CHANGING TECHNOLOGY
We've taken a classic FUN FACTORY shape and revamped it with our groundbreaking  motor. DIVA DOLPHIN has the most powerful vibration of any battery-operated toy and can take both regular and rechargeable batteries, for an eco-conscious toy that never needs to wait on a charge. Love rechargeable toys? BATTERY+ smart charging technology lets you charge rechargeable batteries inside the toy when you upgrade with the . Yup, we've invented and patented a completely new technology so that you can use a powerful vibrator whenever you want to. 
Smart charging technology distinguishes between regular and rechargeable batteries
Deep, rumbling vibration
Use as soon as you get home!
Steady power throughout the battery life
Lock function for easy travel
Quiet & discreet
Intuitive button control
Easy on/off with the FUN button
LED charge indicator light
Upgrade with our

 

Designed and handcrafted in Germany


UNMATCHED STRENGTH
DIVA DOLPHIN offers a deep, rumbling vibration that's comparable to our most popular rechargeable toys, with all the on-the-spot convenience of batteries. Unlike other battery toys, though, this vibe keeps the same level of power from the beginning to end, never petering out as the battery runs out of juice.

ULTIMATE CONVENIENCE
Got some standard batteries in the remote? You're good to go. Feeling eco-friendly? This vibe takes rechargeable batteries as well. Wish you never had to change the batteries? Upgrade with a HYBRID KIT, and charge your batteries inside the toy! Our smart charging technology can tell the difference between regular and rechargeable batteries, for a hassle-free charge. 

INVITING SHAPE
DIVA DOLPHIN's design isn't just playful: it's also perfect for lots of different kinds of play, from penetration to targeted external vibration.

SATISFACTION NOW
Use the DIVA DOLPHIN on your schedule — not just when you remember to charge it. Thanks to the convenience of batteries, this toy is always ready to play.  


USE IT TONIGHT
Buying a last-minute gift for your partner or a treat for your weekend getaway? Don't spend the whole evening waiting for a toy to charge! This is one luxury toy that's always ready for romance.

STORE DISCREETLY
Even if you're using rechargeable batteries, you can charge them separately from the toy, leaving you free to keep the DIVA DOLPHIN hidden in your nightstand.

OUR PROMISE
Made with FUN FACTORY's dedication to quality, DIVA DOLPHINcomes with a two-year warranty. 
 
The most powerful battery toy, with a deep, rumbling vibration. Toys take regular or rechargeable batteries for flexible power.
Rechargeable batteries can be charged separately, or you can use a USB MAGNETIC CHARGER to charge the batteries inside the BATTERY+ toy, just as you would with a standard rechargeable toy. Upgrade with the !
It's submersible waterproof!
4 vibration intensities and 6 vibration rhythms give diverse pleasures.
All FUN FACTORY toys are invented, developed, designed AND produced in Bremen, Germany.
FUN FACTORY offers a diverse and colorful spectrum of toys all made with 100% medical-grade silicone!
Carefully clean the toy before first use and after each use with warm water and mild soap. The  is especially suited for cleaning erotic toys as well as for gently washing genital areas.
A few drops of water-based lubricant ensure comfort when inserting your toy. FUN FACTORY recommends our , which is specially manufactured for use with toys.
WARNING: The use of silicone-based lubricants, oils, and creams (suntan lotion or sunscreen, lip care products, essential oils, coconut oil, and edible oils of all types) can cause irreversible damage to the control unit and the entire toy. Please DO NOT use any of the products listed above in combination with a FUN FACTORY toy. The use of any of these products with your toy may void your warranty.
19,4 cm - Ø 1,5 - 3,6 cm, 180 g