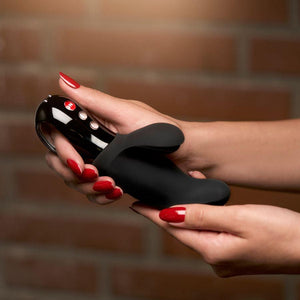 Two rumbling motors. A shape that hugs your curves, hitting multiple erogenous zones at once. A sleek black design. Perfection. 
Get ready for a night you will not forget. MISS BI - BLACK LINE overwhelms your senses, with two powerful, independently controlled motors that deliver deep, bass tone vibration to multiple hot spots at once. Try out a range of positions with this vibe's firm-yet-flexible shaft and extension, which use FlexiFUN Technology to move with your motion and mold to your curves. And don't be fooled by MISS BI - BLACK LINE's modest size: it targets the G-spot and clit for maximum effectiveness. 

Pick your favorite of forty-nine possible combinations of speeds and patterns, and then save and return to it again and again. With its waterproof silicone body, intuitive controls, and ergonomic loop handle, MISS BI - BLACK LINE is perfect for experimenting with adventurous partners - or for keeping on your nightstand for when you want an adventurous night all to yourself.
 Product Features:
Ergonomic loop handle for easy positioning
Intuitive controls with QuickSTOP function
Programmable - save your favorite settings
Travel lock, to avoid awkward situations
Doubles as an anal toy
Battery charge light - never run out of fun
FlexiFUN Technology - moves with your motion
Designed and handcrafted in Germany
Satisfying girth
Rechargeable - Love the Earth.
Made of body-safe silicone - Love yourself
Waterproof - Get wet
Product Details:
Color: Black
Weight (Product): 214 g (7.55 oz)
Total Length (Product): 170 mm (6.7")
Insertable Length (Product): 80 mm (3.1")
Diameter (Product): 42 mm (1.6") Widest Point
Weight (Include Package): 373 g (13.17 oz)
Length (Package): 290 mm (11.4")
Width (Package): 95 mm (3.7")
Thickness (Package): 55 mm (2.2")