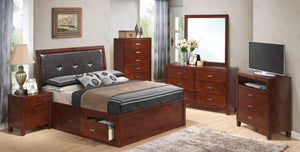 English Dovetail
A type of construction that provides great stability and maximizes storage without extra pieces of wood sticking out. The locking joints are tapered in shape to keep the drawer pieces from sliding apart.
Decorative Hardware
Make every pull a classic with the stylish, ornamental hardware on this furniture piece.
Molding Detail
No home`s design is complete without the finishing touch of seamlessly fitting molding detail.
Tapered Legs
Take your home`s aesthetic to new level. The contour lines of the tapered legs exude elegance and sophistication.
Tufted Detailing
Want the perfect touch of elegance? Then you need furniture with tufted detailing. An undulating surface, tailored to provide you with maximum style.