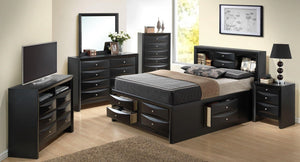 English Dovetail
A type of construction that provides great stability and maximizes storage without extra pieces of wood sticking out. The locking joints are tapered in shape to keep the drawer pieces from sliding apart.
Beveled Edge
The edges have been cut at an angle to create a framed look and add dimension. This furniture piece is sure to be the focal point of the room.
Simple Pulls
Allow other design features on your furniture piece or overall decor to have center stage with the classic clean look of simple pulls.
Molding Detail
No home`s design is complete without the finishing touch of seamlessly fitting molding detail.