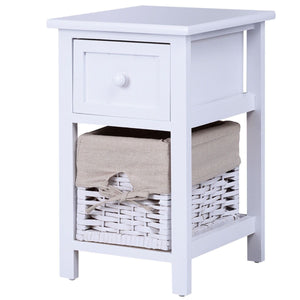 This Item Is Made For The USA. 20% Off Coupon Code: 'OFF20PINS'. Applicable Over $30.00. Free Shipping, Can Be Delivered In 5-7 Business Days, 60 Days Money Back Guaranteed. Promising Deals in PINkart-USA. 2 Tier Nightstand 1 Drawer Bedside End Table Home Organizer Wood Coffee Table with Basket Bedroom Furniture HW55996WH .
General Use: Home Furniture
Specific Use: Nightstand
Type: Bedroom Furniture
Style: Minimalist Modern
Is Customized: Yes
Pattern: AS PICTURE
Height: 12.0"x11.0"x18.0"(LXWXH)
Brand Name: Giantex
Model Number: HW55996WH
Place Of Origin: CN
Installation Method: Assembly
Drawer Number: 2
With Rollers: No
#inPinKart, we bring buying experience with high McAfee data security. Multi-channel sales in Email, Facebook Chat & Twitter online support to personalize the buying experience with price match options, customized gift cards with special discounts, hassle-free returns. Use Only One Discount Code At A Time If You Have Multiple Discount Coupons. Can Be Tracked By USPS. 60 Days Money Back Guaranteed. Free Shipping Starts From As Low As $5.00. Always create account for better shopping experience.