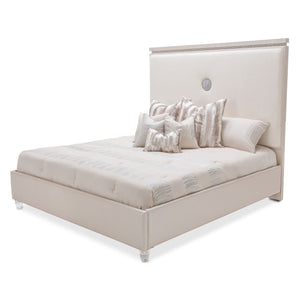 Create  an  inviting  atmosphere  of  glamour  for  sparkling  evenings  and  radiant  days  with  Glimmering  Heights  by  Michael  Amini  and  Jane  Seymour.    This  stunning  collection  features  a  stainless  steel  medallion  as  the  focal  design  element,  with  crushed  crystallized  facets  skillfully applied using the latest technology and includes abundant crystallized accenting throughout.  Case  pieces are  fully upholstered with high quality  textured vinyl in an ivory  finish and  framed with a bright metal trim to provide a brilliant finishing touch. 
Features:
All cases and bed footboard have decorative acrylic front feet. All doors and drawer fronts have metal edge trim. 
Drawers have soft‐closing glides allowing for smooth operation.
All drawers have velvet lining for added elegance and protection.
Under the top of select case pieces is a decorative strip of crystallized facets.
All door and drawer pulls have decorative crystallized inserts.
Behind the dresser door is a velvet lined jewelry drawer.
The bottom shelf behind the dresser door lifts to a secret compartment for hidden storage of  valuables.   
Generously scaled dresser mirror has beveled edges.   
Dimensions:
Queen Size: W65.00" D86.25" H66.50" 
King Size: W80.25" D88.75" H70.00" 
Dresser: W56.25" D17.00" H42.50" 
Mirror: W46.25" D4.5" H39.25"
Chest: W40.75" D17.50" H52.50" 
Nightstand: W28.25" D17.50" H26.50" 
Lingerie Chest: W18.25" D17.00" H73.25" 
Vanity: W56.25" D18.00" H71.00" 
Vanity Stool: W20.75" D16.75" H20.75" 
Bench: W48.00" D18.00" H18.00"