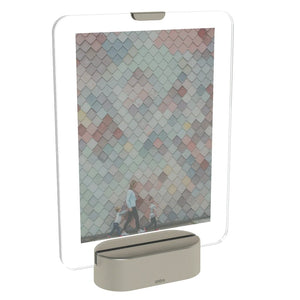 Light up your photos with the GLO FRAME. With its LED strip and halo like glow, this frame is sure to catch attention whether on your nightstand or office desk. This special frame can even be used as a nightlight or memo board with washable markers.
Product Features
LED Desk Frame:

 

Highlight your photos and create additional lighting at your desk with this illuminating photo frame. A strip of LED lights at its base illuminate the edges of this glass frame, creating a halo effect around its polished edges
Modern Floating Frame:

 

Glo floats your photos between two glass panes, which can be placed horizontally or vertically in its base. It comes in nickel or matte brass and is available in two frame sizes, 8 x 10 and 5 x 7
Update Your Space:

 

Glo creates a cheerful and sentimental desk accessory, bound to elevate your desk decor. 
Alternate Uses:

 

If you write on Glo with washable markers it doubles as a memo board. Neon washable markers look particularly sharp, as your writing or illustrations will light up. This versatile photo frame can also serve as a nightlight, creating a glow-in-the-dark effect — Sung wook says this is his favorite feature of the product
Merge lighting technology with a household staple — the picture frame — to make your favorite photos shine. Glo brings the LED strip to the photo frame, making this household staple both eye-catching and multifunctional.
Two glass panes sit in the base of Glo and float your photo. The panes can be placed in portrait or landscape, giving you added versatility when deciding which photos to put in this frame. The LED strip built into the frame's base creates a halo-like glow along the edges of its glass panes.