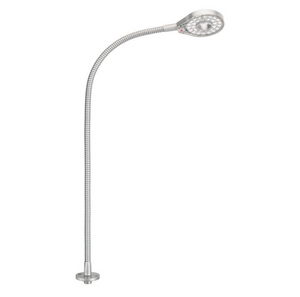 With integrated touch dimmer on light head

4000 Cool white light color
A Energy efficiency class 

3.03 kWh/1,000 h W

eighted energy consumption 
For recess or surface mounted installation
24V driver must be used 
Light your nightstand and read your books with ease with Hafele's Flexible Reading Light Loox LED 3018. This flexible reading light features an integrated touch dimmer on the light head. The light color is 4000K cool white, 2.8 W, with 30 LEDs. The size of the Loox Led 3018 is 20 1/2" (520 mm) long x 2 3/8" (60 mm) diameter. With weighted energy consumption 3.03 kWh/1,000 h., 60 Lm/W luminus efficacy and 165 lm. The reading light LED 3018 is very light made of plastic with a silver colored finish. The Loox LED 3018 is supplied with 78 3/4" (2 m) lead, mounting material and is available in 2 types, recess and surface mounted for you to choose the one that meets your needs. The product is UL certified.