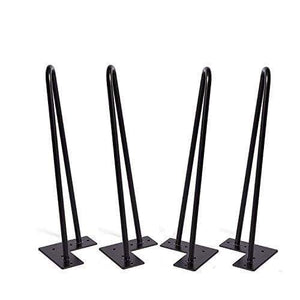 Brand: Lifestan
Color: Black
Features:
Minimalist Design: A sturdy twist on the classic mid-century modern style hairpin legs have a classic V shape, simple and natural, rustic industrial style.
DIY Furninture Project: DIY raw steel metal desk legs suitable for coffee tables, modern desks, nightstands, stools, and even chairs,etc. Multifunctional furniture hairpin legs.
Sturdy: Heavy duty table legs of 3/8" cold rolled iron, make a very sturdy funiture table, Solid and heavy duty construction
Easy Installation: Pre-drilled holes in each leg for easy and convenient installation in mounting plate.
Specification: Metal table leg made of durable and premium raw steel, size 16", 3/8" diameter, stain black. include 4 Pcs floor protectors.
Publisher: Lifestan
Details: Lifestan Classic Mid-century Modern Style Metal Hairpin Legs.
Select a Height and Create Your Own Furniture Design.
Great for DIY furniture projects, Hairpin Legs 16 inch, Suitable for Coffee Table, Nightstand, Stools, Bench,etc.

Features:
1、Simple lines, Mid-century modern style and simplicity
2、Suitable for furniture and tables, DIY wood benches, laptop desks and self-designed products
3、Table leg made of durable and premium steel iron, durable and solid Sold in a set of 4pcs
4、Coated with frosted black finish, easy to clean with lifetime colorfastness

Description:
Material: Solid Raw Steel
Hair Legs Length: 16"
Steel Dia.: 3/8"(10mm)
Color: Stain Black
Style: Mid Century Modern
Quantity: 4 PCS
Include: 4x16" hairpin table legs
4x Floor protectors.
EAN: 6982751796644
Package Dimensions: 17.0 x 5.9 x 5.7 inches