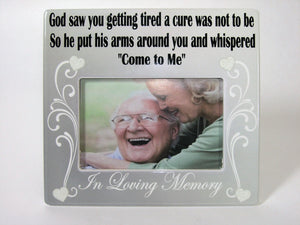 MEMORIAL PICTURE FRAME. This is beautiful light gray and white ceramic frame. It has the loving saying "God say you getting tired". This is the perfect size frame to display a picture of your loved one or give as a gift to someone who lost a family member a friend.

GOD SAW YOU GETTING TIRED. Nice remembrance gift for anyone who has lost a loved one.

LOSS OF A LOVED ONE GIFT. Beautiful memorial gift to honor lost family or friends. It can sit on a desk, bookshelf or nightstand. Since it is a free standing frame with an easel back, you can display it anywhere in your home or office.

BEREAVEMENT PLAQUE. Religious picture frames help our loved ones get through tradegies that happen in their lives.

CERAMIC PHOTO FRAME. The frame comes with an easel back so it can sit nicely on a desk or book shelf. Each one measure approx. 8" W and 7.25" H and they hold a 4 x 6 photo.