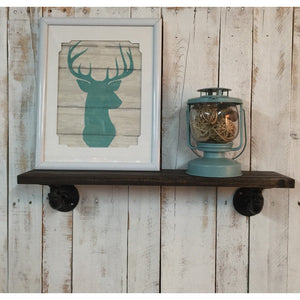 Add rustic warmth and style to the kitchen, living area or bedroom with our sleek Rustic Wood Shelf. The industrial wood design adds easy style and modern appeal to any room. Our shelf adds useful storage without taking up floor space, to enhance your home without adding clutter. Use this shelf in the dining area or the kitchen to store festive glassware, pottery or other useful kitchen tools. In the living area, the shelf provides a secure spot to display your treasured decor, including photos, sculptures and artwork. Install a few of these handsome pieces in the bedroom to add personal touches or to free up space on your nightstand or bureau. Each of these space-saving shelves show the wood's natural knots, giving a unique look that lends a custom vibe to your room.

Handmade item, unused. The item may have slightly color variation that it is in a photo.
Materials-pipes, fittings, wood, and paint.
 Made to order
The pipe has been thoroughly cleaned to remove any oil residue from manufacturing and painted black or nickel.This item will ship with mounting hardware.
Dimensions Approx. Wood 24"W X 5"H X 5.5"D
Wood has been sanded smooth, stained with a beautiful Espresso finish and then coated with a glaze to protect the wood.
*Note: These photographs provide a portrayal of what will be manufactured for you upon your order. Every piece of wood is different & slight diversity is to be expected in the wood grain & the color of the stained wood captured in the photos might vary slightly also. We use high quality wood.