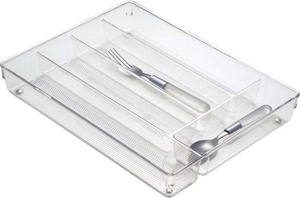 This Linus Cutlery Tray from InterDesign fits neatly into kitchen drawers without skidding or slipping. Made from clear and durable plastic, this tray keeps silverware, can openers, corkscrews, and other kitchen tools in order. And you can use it to organize other rooms in your home too. Fill it with cosmetics and toiletries and it'll keep your bathroom vanity or bedroom nightstand tidy, or load it up with pens and pencils and tuck it into your desk drawer at work or home. The InterDesign Linus Cutlery Tray measures 10.75" x 13.75" x 2".

Features of the InterDesign Linus Cutlery Tray include:

Clear plastic cutlery tray with 5 storage compartments
Keeps silverware and other small kitchen utensils organized
Durable, non slip design for secure placement in the drawer
10.75" x 13.75" x 2"