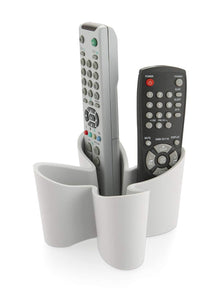 j-me Cozy Remote Control Tidy Remote Holder and TV Remote Organizer (Cool Grey) - Holds up to Four Remote Controls Non-Slip Rubber - Perfect for End Table or Nightstand
Product Features
REMOTE CADDY: Holds up to four (4) remote controls of all sizes. The perfect Remote Organizer for any end table or nightstand.
ULTIMATE MULTIMEDIA REMOTE STORAGE: Built to fit any type of remote control including TV Remotes, Stereo Remotes, Soundbar Remotes, Game Console Media Remotes and more. It can also hold cell phones and other small media devices.
STURDY: Made of non-slip rubber so you don't have to worry about it tipping or sliding around.
PERFECT SIZE: Measures 5.11 x 5.11 x 3.55 inches, leaving plenty of space for your other TV essentials.
BRIGHT COLORS: This TV Remote Organizer is available in five (5) colors: Black, Cool Gray, Red, Purple and Green.