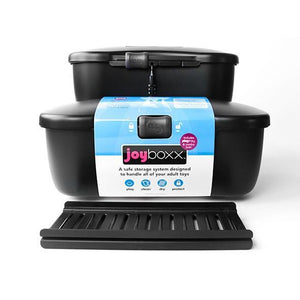 Your toy collection starts with the Award winning Joyboxx + Playtray.  The world's only anti-microbial storage box system was designed to handle your all your sex toy products before, during and after play.  No more lube stains on your sheets or furniture! Hide adult items securely from kids and pets. 

Protect yourself, toys and furniture with Playtray! Set your toy or lube on the removable Playtray before and after use, then clean at your leisure. If you don't have time to clean right away, set it back inside Joyboxx without worry.

Antimicrobial agent helps prevent microbe growth such as; bacteria, virus, mold and fungus. 10 hidden ventilation holes plus the USB charging hole help evaporate moisture if you put your products away wet or if lubrication spills. Use a mild cleaner or put Joyboxx in your dishwasher when needed.

The portable PLAYTRAY is an adult toy coaster/wash/dry rack all-in-one! Use it as an internal JOYBOXX divider that sits firmly on the main tub's 'fluid spill barrier rail' for toy separation and organization.

When using a toy, remove the PLAYTRAY and use it as a coaster to protect furniture from stains and toys from dust. Then easily transport used toys to the sink to wash and dry, or set it back inside JOYBOXX where ventilation holes at the top of the main tub, allow air circulation, moisture evaporation and the larger hole in the back allows for discreet toy charging.

Multi-toy users will appreciate having several PLAYTRAYS, so it is also sold separately. PLAYTRAY is an innovative new tool that is great for use with other hygiene items such as toothbrush, dentures and retainers to keep them off of countertops and air circulating.
Product Features:
Includes a FREE PLAYTRAY
Dishwasher Safe
Includes Playtray
PVC, BPA & Phthalate Free
Fits most sex toy products
Food-grade, non-porous plastic
Discreet USB toy charging hole
Sophisticated Unisex Design
Anti-microbial silver ION agent mixed into plastic
"Easy access" top compartment for small items
Child resistant, removable, quiet sliding lock
Mini combo lock included for 100% security
Fits inside most nightstands and drawers
Protected ventilation holes helps moisture evaporate and keeps dust out
Product Details:
Color: Black
Weight (Product): 473 g (16.69 oz)
Length (Product): 320 mm (12.6")
Depth (Product): 140 mm (5.5")
Height (Product): 125 mm (5")