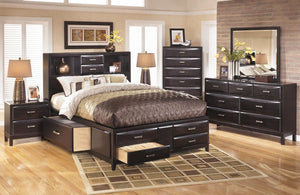 Lined Drawer Interior
Ideal for jewelry, scarves and accessories...the material lining on the inside of this drawer will keep your valuables from scratching.
Decorative Hardware
Make every pull a classic with the stylish, ornamental hardware on this furniture piece.
Simple Pulls
Allow other design features on your furniture piece or overall decor to have center stage with the classic clean look of simple pulls.
Molding Detail
No home`s design is complete without the finishing touch of seamlessly fitting molding detail.
Tapered Legs
Take your home`s aesthetic to new level. The contour lines of the tapered legs exude elegance and sophistication.